Hello everyone! So I was looking at the statistics for all of my posts one day and I realized that the posts that are most viewed are the ones that are about the pre-medical track. I have said I probably would not write another post about it (because I wrote many posts about it) but I thought this would be a nice overview of the steps one can take to get into medical school the traditional way. I went straight from undergrad to medical school. This is sort of becoming unheard of because now, a lot more students are non-traditional, which is amazing! I would love to talk about the non-traditional pathway but haha it's not my experience. For those of you who do not want to take time off and inshallah go straight in, here's an overall timeline of what you should follow.
Before I begin here are the required courses that most medical schools require from applicants:
General Chemistry (2 semesters)
Biology (2 semesters)
Calculus or Statistics (1 or 2 semesters)
Organic Chemistry (2 semesters)
Organic Chemistry Lab (2 semesters)
Physics (2 semesters)
Biochemistry (1 semester)
Some schools may require anatomy, physiology, inorganic chemistry, or other courses so definitely check out the medical schools that you would want to apply to and their requirements when planning classes: https://students-residents.aamc.org/medical-school-admission-requirements/required-premedical-coursework-and-competencies
Ok, let's get started.
_____________________________________________________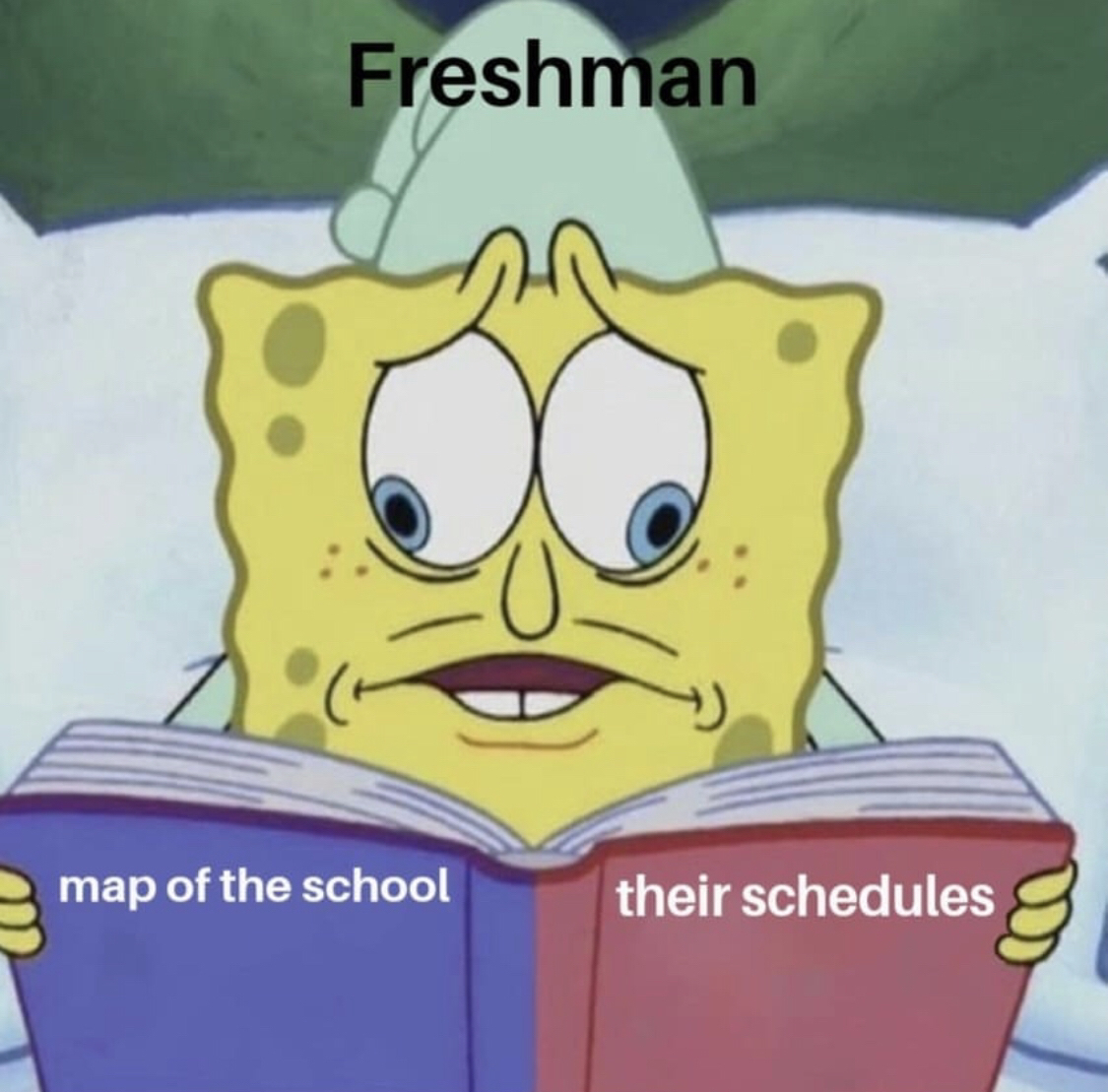 Freshman Year:
Freshman year can definitely be scary starting out. I kind of knew I wanted to be a doctor but so does everyone else in your class filled with 600 people. You are in a new environment and gone is the schedule that is pre-made for you. So if you still are thinking about medical school here's what I recommend doing.
There's no specific pre-med major. Therefore, find a major that you enjoy and can get good grades with. So many people end up doing biology, which is fine but not necessary. You can do history, a language major, sociology etc. while still meeting the requirements of being pre-med. So take your time and find a major that you can see yourself doing.
Explore the university and get involved with different organizations
Freshman year can be overwhelming because of the organizations you can get involved with. Take your time and explore the ones that interest you but do not get too caught up because…school. But it will be nice to become a member of some of them so that you can build leadership and network.
Try to take the general chemistry, biology, and math classes this year
Try to take two hard classes a semester. If you still are not sure you want to do premed but are still considering something in healthcare, take two "hard" science classes each semester. I would recommend doing gen chem and biology the first two semesters. Make sure to go to tutoring hours and reach out to professors because these classes can be hard.
Take some nice GEs to keep your GPA high
Gen chem, biology, and even the math class if you decide to take it might tank your GPA. Therefore, try to take some easy courses that you can get an A in to keep your GPA up. One thing I learned the hard way is that it's easier to tank your GPA than to raise it. So keeping it super high in the beginning will help you out.
1st Summer: Try to get involved in volunteering or shadowing. Also, you can try to reach out for research opportunities but this is not necessary. Check out my posts in the pre-med advice section for more about this.
_____________________________________________________
Sophomore Year:
Ochem year 😣. I was super scared of the notoriously difficult classes. But I had to power through. By this time you should really assess whether or not you still want to pursue medicine and go to medical school. By the end of the first year, a lot of people dropped pre-med because of how difficult gen chem was. If you're still the few left in the Hunger Games that want to push on, then here's what you should probably do.
Take your ochem and ochem lab courses
Man, I hated these classes but I had to power through. Ochem was not for me but because I knew I wanted to go to medical school, I had to take them 😞. Go to the tutor rooms. Reach out to your professors. Keep practicing those reactions each and everyday. It's not going to be easy and you might not get a stellar grade in the end but as long as you try, that's all that matters.
I would still recommend having easy GE classes. By this time, I decided to minor in French which now I am like…why? Cause minoring was kinda hard lol. But take as many easy classes as you can to boost up your GPA because Ochem might tank it. Try to get As in these classes and do your best to get Bs or above in ochem (way easier said than done but try).
After all of the organizations you have explored, pick one or two that you want to be on the eboard with. I made the mistake of joining multiple organizations, hence I got burnt out. I would not recommend that to anyone. It's better to grow with an organization than to have multiple ones on your resume that you pretty much only did to look as if you were busy. If you join a service organization that would be really cool and pretty much knocks two birds with one stone. You could also join the pre-med club so that you could network as well. There are many cool organizations but you only have time for so much.
Start thinking about research
Ahh, as if your schedule is not super full already. Now it's time to pick up research. Hopefully, it's the second semester of sophomore year and you have gotten the hang of ochem. Try to reach out to professors for research opportunities or look online for some. I have a post just for that.
2nd Summer: This summer is the time to get involved in research if you have not done so throughout the year. You can also go to great pre-medical summer programs. Here's one that I wanted to participate in: https://www.shpep.org. You could also take your ochems in the summer as it would be super chill and less stress. Or you could have a clinical job and try to get experience from that as well. Do what works best for you!
_____________________________________________________
Junior Year:
MCAT year. This year was probably one of the most stressful. Because if you are trying to go the traditional route, this means taking that dumb exam. Ugh. This also means applying to medical school double ugh. It's the last time to truly make your mark in terms of grades and courses so frankly, this is a critical year.
Make your schedule very light
This depends on when you are taking your MCAT. My schedule was super full, unfortunately, so it was harder to make time to study. When I did have time, I was always like…I should focus on my classes instead of MCAT studying. Oh man, did I take a big hit in the end. Therefore, try to take the least classes you possibly can this year.
Take biochemistry your last semester (if that's not your major of course)
Biochem is a huge subject tested on the MCAT, therefore, make sure you take it cause… it can be helpful. I was a biochem major which did help but honestly, you do not need a major in that to help you on this exam. But take it right before your MCAT date.
Take your physics courses
Physics is also on the MCAT. I do not know I made myself struggle to take the calc-based physics courses. It was pure torture. I would recommend taking the algebra-based ones and moving on. Until this day, I do not like physics. That and ochem. So make life easy for yourself
If you have not taken psych earlier for the GEs, then take it now. It's on the MCAT. I actually thought the course was not too bad so I would not classify it as a hard science.
Take physiology if you can
I know I mentioned keeping your schedule light but then I am mentioning all these courses you should take. But I would recommend physiology because I think it's covered on the MCAT. It just makes some of the processes make sense. But if you do not have time to take it, you'll be fine. 😊
Schedule your MCAT and make a plan
This is when I slowly started realizing that a path to medicine is made for the wealthy. Registering for the MCAT is expensive. Preparing for the MCAT is expensive. Therefore, make sure you really understand what you are committing yourself to. If you know that you want to go straight in, then you have to make a plan. I recommend setting 3 months aside to study for it and fully commit to it. You can learn more about my post about it.
I have a whole post about this but around this time, it's best to get your letters of recommendation. It sucks but you are going to have to reach out to teachers, advisors, and community leaders. You need to have them uplift you to the admissions committee!
This will be helpful for the application section on AMCAS. You need to remember all of the things that you have done thus far.
Go lightly on your extracurriculars
Keep your couple organizations going but let them know that times are going to be tough. They should be understanding. Because this is your future we are talking about. This year is crucial and it's going to require a huge time commitment from you to get things rolling.
3rd Summer: I took the MCAT during this time and applied as well. I would recommend taking it when you feel ready. There are people who took it in August and still made it in time for the app cycle but by all means, take your time and try to assess your chances. Solely use this summer to focus on those two things. I would recommend holding off on other extracurriculars like school, research, and work until those two things are complete. I would also recommend going to networking events like SNMA and talking with medical students there for advice. You're going to need a lot of support this time.
_____________________________________________________
Senior Year:
Interview Year! This year was pretty anxiety-inducing because everyone will ask you..what's next? Where are you going? Did you get any interviews? Yadayadaya. I would advise you to keep anything and everything on the down-low until things start panning out. People will try to compare themselves to you and want to place you in a box. Don't allow them to do so. Focus on yourself.
You want to make sure medical schools can put a face to your application. Go to as many events as you can to set yourself out. Reach out to directors and students. You have to put yourself out there. 
Hopefully, you start to receive interviews. Some people do not get some until very late so do not be discouraged. If you are fortunate enough to receive it, you have to prepare for them. I have a whole post about that as well so definitely check that out. But once you get your interviews you are one step through the door!
This year is pretty chill because you have taken most of the classes you need to graduate. To prepare yourself for med school and if your schedule allows it, take these courses. I would highly recommend it because it will set you off right.
Finish off the year strong
Senoritis is in the air! It feels easy to just skip class, because, burn out, but make sure to finish off strong. Your transcript will still be sent to med schools so you do not want to flunk out lol.
Hopefully, by this time second semester, you receive acceptance. If not, that's fine because I know some people who were accepted a couple weeks before medical school. But if you do have them, the battle is not over yet. Make sure to reach out to the financial office for tuition support. Now that they showed that they want you, you now have an advantage therefore, use it!
Enjoy your last time on campus!
You're about to graduate! No matter how the app cycle has gone, you should still be proud of yourself. You have worked incredibly hard to get to college and get through it. Take in the last moments you will be on campus and surround yourself with your close friends. I, unfortunately, did not get to experience that because of Covid but I am still grateful nonetheless. College was definitely a wild ride and I would not have changed anything that I have gone through.
4th and Last Summer: Enjoy this summer! It will be your last summer before medical school starts. If you did not get in after all the hard work, I am truly sorry. You are not a failure. This is just a setback. And you will still be a doctor. Give yourself some time to process it and plan out your next steps accordingly.
But if you got into medical school, please chill before you start. Some people (like myself, unfortunately) did a summer course with our school to prepare us for our first year. I honestly would not recommend that. Medical school is hard and will always be hard no matter what you do. Just know it's going to be challenging but by God's grace, you will through it. You got this!
That's all I have. Going through the traditional path has been a journey but as I have said earlier, I would not have changed it any other way. I am glad it worked out the way it did. It was truly by the will of Allah (swt). I also have classmates who were glad it did not work out for them traditionally and that's amazing too. Again, please check out my other posts if you have specific questions on how to do something. Good luck as you embark on this wild ride!